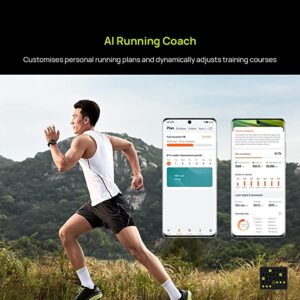 Designed for speed and taking inspiration from the grille of a sports car, HUAWEI WATCH GT Runner features a hollowed-out lug build to allow for a more breathable, comfortable wearing experience.
Run Light,
Train Hard
The durable polymer-fibre case, offset with ceramic finish, and aircraft-grade titanium-alloy crown combine to create a strong, lightweight and comfortable design of around 38.5 g1, helping you achieve better performance.
See Your Data Faster
See the data you care about most like training load, running ability index, recovery time, plus altitude and weather via the easy-to-use integrated dial. Simply raise your wrist to see what you're achieving and take your running ability to the next level.
TruSeen™ 5.0+
Low Consumption, High Precision
The newly upgraded heart rate module includes eight photodiodes in a circular layout and two sets of light sources, combined with a curved glass lens for a comfortable wear and reduced external light interference. The AI algorithm has been upgraded to filter out noise signals more effectively, allowing accurate heart-rate monitoring even during strenuous exercise.
Dynamic Heart
Rate Monitoring
The all-new TruSeen™ 5.0+ hardware upgrade in HUAWEI WATCH GT Runner provides vastly improved heart-rate monitoring even for hard interval training. Experience reliable readings, equalling those of a chest strap, with 97% accuracy within 10 bpm.
Faster Satellite Location
The antenna is protected by composite fibre material and hidden within the watch lug. The innovative floating antenna design significantly reduces weight and interference, while providing improved connectivity and GPS performance.
Dual-Band Five-System GNSS
Accurate Track Positioning
HUAWEI WATCH GT Runner supports the 5 major navigation satellite systems, dual-band real-time concurrent calls, faster satellite search speed, and more accurate positioning.
HUAWEI TruSport™
Scientific Running Program
Hardware upgrades ensure more accurate data monitoring, and with HUAWEI TruSport™ professional Scientific Running Program, the watch can provide entry-level runners with data and suggestions on training intensity, training volume, recovery time, and more, all from a single run. For advanced runners, receive a running ability evaluation, physical fitness/fatigue status updates, plus long-term training performance analysis. And if you're an elite runner, get monitoring and evaluation of your running technique. Become a better runner with HUAWEI WATCH GT Runner, whatever your current level.
Running Ability Index
How to quantify running ability efficiently and accurately has always been a difficult problem for runners. Based on the HUAWEI TruSport™ Scientific Running Program, Huawei presents the Running Ability Index to help runners accurately assess their running ability and level.
Visualise Your Progress
Huawei Running Ability Index provides evaluations based on multi-dimensional data including historical running heart rate, pace, distance, and frequency. You'll receive a precise breakdown of your current running ability and how it compares to your goals. Get the information you need to formulate personal training plans and reliably improve your running performance.
Training Load
To achieve your running goals you need to train hard, but also smart. Know the appropriate time to rest after a high-intensity session and what the right training volume is for you, thanks to the Weekly Training Load feature. Avoid injury and get to where you want to be faster.
Training Suggestions
With your current running ability and training load as the core data, combined with multiple other data analyses, HUAWEI WATCH GT Runner provides you with scientifically factored training data and suggestions, including fatigue levels, recovery time, aerobic and anaerobic training intensity, training indices, and more. Discover a fitter way to adjust your training plan.
AI Running Coach
Customise your training plan based on your gender, height, and weight, plus heart rate, distance and frequency of runs, pace, and more. Divided into 4 training periods — initial, upgrade, consolidation, and reduction — you'll get a clear pathway to help you improve at the right pace.
Your Coach, Your Plan
The AI Running Coach scientifically analyses your weekly workout data, automatically adjusting your running schedule for the following week so you're always making good progress. View clearly mapped-out training reports in the HUAWEI Health App and chart how close you are to attaining your goals. Make running a joy, not a chore.
Real-Time Voice Guidance
Your customised running plan is automatically synced from the HUAWEI Health App to HUAWEI WATCH GT Runner, so it's there whenever you go for a run. And as you're running, the Real-Time Voice Trainer feature can let you know your heart rate, pace, and other body data, as well as your current training goals, via audio alerts — meaning you can concentrate more fully on your route.
Route Sharing and Navigation
Share your favourite running routes and receive recommended routes from friends7. Once you've got your route mapped out, you can explore it offline as you're running, as well as use the return function to get yourself safely back home.
2-Week Battery Life
HUAWEI WATCH GT Runner provides up to 14 days of battery life from a full charge, and up to 7 days of battery life in heavy usage scenarios8. It can be charged with a mobile phone wirelessly9, allowing you to charge it at any time without any battery life concerns.
Stay Safe Outdoors
Get instant alerts about incoming bad weather via the built-in barometer. And always keep your bearings, no matter how far off-track you go, thanks to the all-new precision compass function.
Convenient Control
HUAWEI WATCH GT Runner is designed to fit your daily life. Use it to conveniently take calls10 and control your music, whether it's playing through the watch or your phone.
All-Day Health Insights
HUAWEI Watch GT Runner supports a whole host of health monitoring functions, including abnormal heart-rate notifications, 24/7 blood-oxygen monitoring, sleep monitoring, and period management. A personalised health manager on your wrist.
Powered by HarmonyOS 2.1
More to Enjoy
HUAWEI AppGallery for Watch offers many apps for download, and a ton of excitement for you to explore.