SOME WORDS ABOUT US
Well-coordinated teamwork speaks About Us
Carpe Diem! In ancient age... GotDeal ! Is Today.
We wish the welcome, the smile, the seriousness and the cordiality, the convenience, the service and the suitable product from the seller, all in a short time.
Got Deal was born from these principles.
Carpe Diem is its inspiring muse, which we intend to offer to our visitors as bargains, introducing, by a lot of opportunities, a simple but alternative web shop of technological products, not auctions, but about excellent quick deals to be concluded! While stocks last…
Who comes first…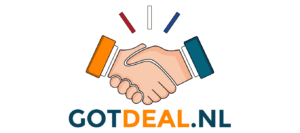 We don't introduce ourselves as the best. Beautiful, spatial, astride the Moon.
We simply live our reality: What we say is what we do.
Our business card is not a lot of containers of feedbacks by Albert E., Guglielmo M., Steve J. or Francesco from Rome.
We are our only business card, we intend to introduce ourselves only with our face, our simplicity without frills, our jeans the same as yours, our hand virtually to shake friendly to establish a deal, the same hand we work with, our presence as a reference for any eventuality.
The idea of continuously offering products with immediate availability or fast delivery but limited only at the convenience, "at the bone price", offers the opportunity of "making the deal", quickly. If this is a style, ours will be considered by the customer,
it is that of … "Deal!"
GotDeal is EasyHolland consumer's web shop, company located in the Netherlands, in Brabant, since 2011, in the wholesale IT technology market. www.easyholland.nl
Formed of a team with long national and international experience in IT distribution, in the web -marketing and logistic departments, it is autonomous and independent Dutch company. We are our operators…
Simple categories, the most requested; the most popular products visible in the spotlight, as in the showcase, 2 clicks and "grab the deal"!
Free of slowness, safe shopping, insured shipping by NL, customer service and warehouse in NL.
The Easy Holland Crew @ 2021.
EasyHolland is a Dutch company, daily follow us to view every new product ready for a deal.