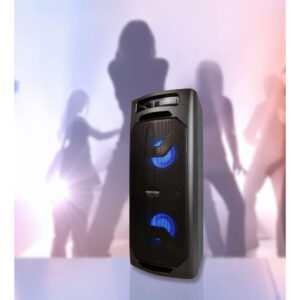 Toshiba TY-ASC51 Bluetooth speaker will offer you a rich bass sound and crisp treble sounds that will excite every lover of music. There's no need for any complicated cables! Modern Bluetooth technology makes it possible to play content from your smartphone and other compatible devices. This Toshiba Bluetooth speaker has a range of audible frequencies from 50 Hz to 60000 Hz. The overall performance of 50 W will emit plenty of volume wherever you take it. The Bluetooth speaker receives power via the integrated batter, therefore it can play for 6 hr(s). You will be able to charge this Bluetooth speaker with its microUSB connector. One useful feature of this Bluetooth speaker is the display. If you connect devices with a cable connection, you can use the 3,5 mm Jack, 6,3 mm Jack, AUX and USB input on the Bluetooth speaker.
Toshiba TY-ASC51 Bluetooth speaker connects via Bluetooth technology
Bluetooth speaker with built-in microphone allows you to pick up calls handsfree
Water resistant finish, labelled IPX2
Bluetooth speaker features an integrated FM receiver
Charged battery lasts up to 6 hr(s)
Bluetooth speaker plays any sound between the frequency range of 50 Hz and 60000 Hz
Toshiba Bluetooth speaker overall power: 50 W
Bluetooth speaker dimensions: 20,2 × 21,4 × 50 cm
Bluetooth speaker weighs 6,3 kg
You can also plug in devices to play music through the 3.5mm jack on this Bluetooth speaker
Has you phone run out of power? Don't worry! The party can go on! These times call for the built-in FM reception on this Bluetooth speaker. The integrated microphone on this Bluetooth speaker also lets you take calls. You can connect your smart devices to the Toshiba Bluetooth speaker thanks to a classic 3.5mm Jack connector. Finally, we would like to draw your attention to the fact that the Toshiba TY-ASC51 Bluetooth speaker is also water resistant.