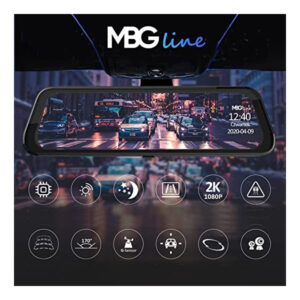 CAR CAMERA: Track recorder with image sensor and power adapter, 12V auto, + car battery power adapter included. This item is essential for any motorist. The camera is very robust, has an active parking mode 24/7 – when the ignition is turned off, the camera itself activates the parking mode. Designed for indoor installation.
🚗 USE: Car cameras are very popular among motorists. They allow you to record dangerous traffic situations, which can be useful, for example, when you assert your rights after an accident.
FULL HD: High resolution allows you to see every detail! The high-end mini car camera records in 2K [2560x1440p] and FULL HD [1920x1080p].
✅ INSTALLATION: Easy installation means that anyone can install it in the car. The flexible bracket allows the camera to be attached to any mirror.
A front lens with a 170 degree angle of view (F1.8) and a rear lens with a 120 degree angle of view (F2.0) allows you to capture a very wide perspective. This model uses the new Sony IMX335 image sensor for better image recording in difficult lighting conditions.