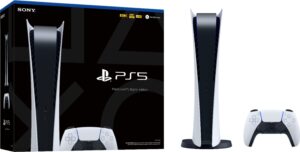 ( ** No blu-ray disk model ** )
Sony PlayStation 5 Digital Edition 825 GB Wi-Fi Black, White:
Experience lightning-fast loading with an ultra-high-speed SSD, deeper immersion with support for haptic feedback, adaptive triggers and 3D Audio, and an all-new generation of incredible PlayStation® games.
Lightning speed
Harness the power of a custom CPU, GPU, and SSD with Integrated I/O that rewrite the rules of what a PlayStation console can do.
Ultra-high-speed SSD
Maximise your play sessions with near-instant load times for installed PS5™ games.
Integrated I/O
The custom integration of the PS5 console's systems lets creators pull data from the SSD so quickly that they can design games in ways never before possible.
Stunning games
Marvel at incredible graphics and experience new PS5 features.
Ray tracing
Immerse yourself in worlds with a new level of realism as rays of light are individually simulated, creating true-to-life shadows and reflections in supported PS5 games.
4K-TV gaming
Play your favourite PS5 games on your stunning 4K TV.
Up to 120fps with 120Hz output
Enjoy smooth and fluid high-frame-rate gameplay at up to 120fps for compatible games, with support for 120Hz output on 4K displays.
HDR technology
With an HDR TV, supported PS5 games display an unbelievably vibrant and lifelike range of colours.
8K output
PS5 consoles support 8K Output, so you can play games on your 4320p resolution display.
More PS5 Digital Edition features
PS5 Digital Edition is an all-digital version of the PS5 console with no disc drive. Sign into your account for PlayStation Network and go to PlayStation®Store to buy and download games.
Backwards compatibility
Play a back catalogue of digital PS4 games on your PS5 Digital Edition.
Game boost
Enjoy faster and smoother frame rates in select digital PS4 and PS VR games.
Upgrade digital PS4 games to digital PS5 games
The PS5 Digital Edition gives game publishers the ability to let players upgrade their digital PS4 games to digital PS5 games.
PlayStation VR integration
Connect your PlayStation VR to your PS5 Digital Edition to enjoy supported digital PS VR games. To set up your PS VR with your PS5 Digital Edition, you'll need your PlayStation Camera2 for PS4 and a PlayStation Camera adaptor (no purchase necessary). More details on how to claim an adaptor will be shared on PlayStation.com when available.
Breathtaking immersion
Discover a deeper gaming experience with support for haptic feedback, adaptive triggers and 3D Audio technology.
Tempest 3D AudioTech
Immerse yourself in soundscapes where it feels as if the sound comes from every direction. Through your headphones or TV speakers your surroundings truly come alive with Tempest 3D AudioTech in supported games.
Heighten Your Senses™
The DualSense™ wireless controller for PS5 offers immersive haptic feedback,1 dynamic adaptive triggers1 and a built-in microphone, all integrated into an iconic design.
Haptic feedback
Experience haptic feedback via the DualSense wireless controller in select PS5 titles and feel the effects and impact of your in-game actions through dynamic sensory feedback.