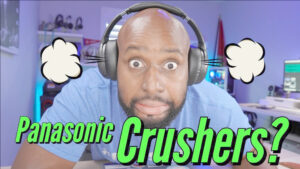 Mighty Bass That Moves You
The M300B Wireless Headphones capitalise on heavy bass sound for you to enjoy music to the fullest. RB-M300B features XBS DEEP that delivers well-defined deep bass and also has Bass Enhancer to further emphasize bass when you want.
Deep Bass Thumps Your Body
The XBS DEEP (Extra Bass System Deep) delivers well-defined deep bass to make you feel the impact of dynamic sound with your entire body as if you are in a live house or concert hall.
Well-Defined Deep Bass Response
The Free Edge Driver System has a highly elastic nanofiber diaphragm that is not directly fixed to the driver frame. This creates smoother movements of the diaphragm to produce dynamic and high resolution bass sound.
Encompassing, Deep Bass
Apply an equalizer for stronger bass with the touch of a button. This Bass Enhancer clarifies the bass for even more powerful sound, expanding the range of music you can enjoy.
Gentle Fit for Any Ears
M Series adopted Side Pressure Dispersion Technology that evenly spreads out lateral pressure around your ears for a more comfortable fit. This allows you to enjoy music for a long time.
Voice Assistant Activation
You can launch smartphone voice function to select music, adjust the volume, and make phone calls, with your voice.
50 hours Playback
You can keep on for more than 50 hours of continuous wireless playback.
Quick Charge
Quick charge before going out. Just 15 minutes of charging supports 3 hours of listening.