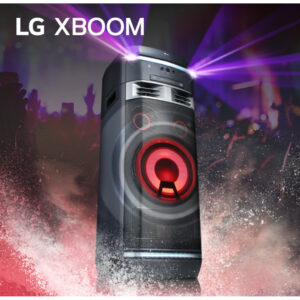 For Karaoke – Karaoke Playback, Recording, Echo Effects and Vocal Effects, DJ Wheel,DJ Loop, Party Thruster, DJ Pad and Multi-color Party Lighting, Bass Blast EQ, LG XBOOM App
Pressure creates power. An internal folded horn design increases acoustic pressure by pushing sound through an amplifying duct. The result is super powerful and incredibly weight bass blasts.
Enjoy and share your party mood seamlessly with Karaoke Recording feature. Easy to record and share your Song with friends and family .
Have a Blast with 1000W !!
Pump up your audio experience with clear and impactful booming beats. LG XBOOM OK75 is designed to accommodate any party no matter the size.
The LG XBOOM OK75 pumps out thumping, thunderous low-end from its 8inch woofer for bass you can feel as well as hear.
Complete your party with Multi Color Lighting Woofers that changes to the beat of the music playing. The white Dual Sparkle Strips and the blue and red corner lightings highlight the party with more fun.
Become a DJ with Pro DJ features. Turn the jog wheel for scratching and add other various sound effects as well as looping specific part of the track by simply pushing a button.
Play and mix from two different USB drives. With DJ Sharing feature, you can easily send mixed party tracks to your phone.