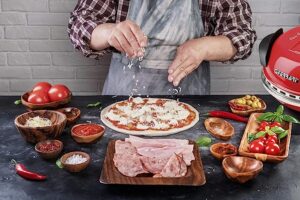 Home-made pizza just like that of the best pizzerias! With the Delizia pizza oven you will finally be able to bake the real Neapolitan pizza directly at home in just 5 minutes, topping it with your favourite ingredients and having fun experimenting with new and tasty recipes every day. The fragrance and inimitable taste of pizza are enhanced in the Delizia oven.
The key to making an excellent pizza is in fact cooking at a very high temperature (400 degrees) for just a few minutes: in this way the dough is cooked without drying out the toppings.
Home ovens typically do not reach these temperatures, but the refractory stone with which the Delizia oven is equipped really makes the difference, guaranteeing the same result as the ovens of the best Neapolitan pizzerias, thanks to the high cooking temperatures reached (up to 400 degrees).